Walkthrough - Making a latex character mask
Article by nert posted Monday 3rd September 2007
by Jonathan Cullinane
I thought I'd throw together this walkthrough of Kimura from Azumanga Dioh, or "The making of a Slackjaw Schoolteacher". This is mostly photos with very little explanation but you should get a pretty good idea of the process that went into making the mask.
Step 1: Attempt plasticine directly on to wig head:
Realise that wig head in no way represents your own head's dimensions, and give up.
Step 2: Acquire friends. Attempt Lifecast.
Step 2b: Only mildly panic that your life depends on a plastic tube right now
Step 2c: Wonder whether it was wise to put your life in the hands of aforementioned friends...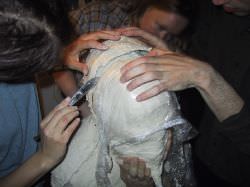 Step 3: Cast lifecast. Fail at casting the shoulders and half of your own face. Cleanse it of impurity and.. most inaccuracies. Paint it pretty colours because you're stupid and won't seal it well enough to stop the paint flaking off into the plasticine later.
Step 4: Make your plasticine model
Step 5: Fail at casting a negative, realise you're running out of time and take the lazy option of -- Start paintin' that latex on! Lots of it. We're talking 15-20 layers here. 10-20 minutes drying time between each.
Step 6: Mix latex with acrylic paints and get detailin'
Step 7: Slit the back, remove latex from lifecast (REMEMBER TO USE TALC) Make sure you can breathe through the damned thing. Seeing through it is optional.
Step 8: Recover lifecast from the dried, cracked and generally unhappy plasticine. Optionally take a photo of it dissected in half to prove to yourself you really don't look like the character.
See? Right there. You didn't seal the paint properly. Muppet.
Aaaand, you're done! Wear to conventions, stalk small children and scare people half to death. Yay.
So in summary:
Date started: 29/04/07
Gave up, started Lifecast: 06/05/07
Ran out of plaster, ordered more and made the lifecast: 10/05/07
Finished cleaning up, adding a base and sealing lifecast: 19/05/07
Started plasticine: 20/05/07
Started latexing: 22/05/07
Finished Mask: 25/05/07
A month in the making, but only a week for the actual mask part. Awesome.