Overview

Profile

Costumes
Personal Information
Personal Bio
I like BJDs, Cosplaying, Roleplaying and Baking~
Cosplay Bio
I started properly about 4 years ago, in Tokyo Game show. Since then, I went from doing 2 costumes a year to going to pretty much every London based event going, making my own cosplay group, Watapachi (I love you guys you all are so awesome and I would not be able to enjoy cosplay as much as I do without you guys!)and hope I can enjoy, and have people enjoy my cosplay more in the future!

Unless stated, my usual photographer is Kuchiii

I mainly cosplay men, but someones am known to randomly want to do the most girliest chara I can imagine. XD
Contact Information
http://kazezakura.deviantart.com/ <- my DA
LiveJournal
Wed, 03 Mar 2010 14:30:00 GMT
I am selling all my doujinshi as...I don't read them anymore! All are pretty much mint, and all are very explicit R-18s (lol) All in Japanese, bought directly from stores in Japan by me last year (Bleach ones are 3 years old, but same). Most of my Kuro ones are Pink no Neko sensei's, because I love her art and kinks....

All doujin are $17 each, or $15 if you buy more than 2. I am based in the UK, and postage will be quoted when you tell me how many books you want :)

I have good feedback as seller on ebay feedback.ebay.co.uk/ws/eBayISAPI.dll though I havn't sold there for a while, I have very recent feedback spanning 3 years selling very expencive resin dolls on Den of Angels here denofangels.com/forums/showthread.php

And here are the doujin: (Click to see bigger photo) If any question about content or whatever, ask me.


Kuroshitsuji: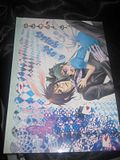 1) Drink me
Circle: Pinku no Neko (I think.)
Theme: Bunneh SebX Alice!Ciel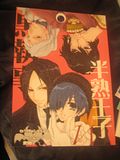 2) Hannetsuouji
Not sure of circle
Theme: SoumaXAgnisXCiel (3P) then CielXSeb




3) Fully Fully
Circle: Pinku no neko
Theme: Alice!CIel and Bunny Seb




4) My little bird
Circle: Pink no neko (Can you tell I like her stuff?)
Theme: Trap!CielXSeb, A little non-conish at the start....




5) Sendrillon
Circle: Pinku no Neko
Theme: LauXCielXUndertakerXSeb (4P) Futanari!Ciel (lol)



6) Humiliate me darlin'
Circle: Pinku no neko
Theme: CielXSeb
(The cover is a little damaged at one side at the front on this. Just thouht I would note it down.)



7) Shiyounin to inu
Circle unknown
Theme: Maid!CielXMaster!Seb Light SM




8) Chelucy
Circle: Pinku no neko
Theme: Trap!CielXSeb



9) Paredoru
Circle: Someone who knows Pinku no neko, but isn't. XD
Theme: Alice! CielXBunny Seb

Bleach:



10)
Theme: ShiroichiXIchi, as always, kind of non-con.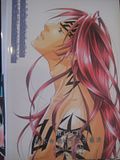 11)
Theme: ByaRen, Sort of non-con into hurt comfort...



12)
Theme: ByaRen, Generic =D
Interests