I'm currently clearing out a lot of my old things as I'm running out of room! I will add things as I go but right now I just have manga and a few figures.
I come from a smoke-free home, but I do own a cat and a dog (neither of whom are allowed near these things).
Attending Ayacon!
PM me or comment if you want anything!
Manga:
All £4 each or 3 for £10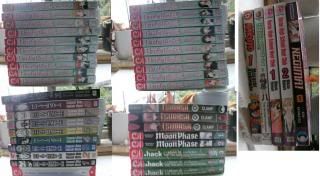 [ALL ON HOLD UNTIL FURTHER NOTICE]
-Fruits Basket 1-3, 5-9, 12, 13, 20, 21 (4, 10, 11 & 14-19 SOLD)
-Death Note 1-8, and 13
-.Hack // Legend of the Twilight 1-3 (FULL SERIES)
-Moon Phase 1, 2
-Ouran High School Host Club 1,2
-The Melancholy of Haruhi Suzumiya 3
-Negima volume 1
-Naruto volume 1
-Tsubasa Chronicles 1-3
-Tsubasa: Those with Wings volume 1
This one is £5
because it's a big volume, at least 2 books worth!
Figures: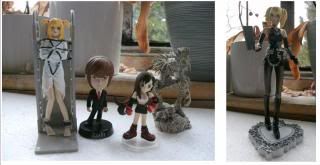 -Misa Amane statue
£10
SOLD
This is a really beautiful statue of Misa on a fancy heart-shaped base. She has alternative hands which I forgot to include in the picture.
-Misa Amane Gachapon figure £4 [ON HOLD]
The 'secret' figure in a gachapon box set, when she is being 'interviewed' by L
-Light Yagami bobble head £4 [ON HOLD]
A small Light bobble head figure.
-Ryuk white/grayscale gachapon figure £4 [ON HOLD]
From the same set as the little Misa I think, an alternate colour scheme of Ryuk. The colour scheme looks quite a lot like the pages of a book!
-Tifa mini figurine £3
SOLD
A small figurine of Tifa from FFVII. Was part of a set with other mini Final Fantasy characters.