Wig commissions
open
, an available and flexible to style most wigs.
Facebook Portfolio
-
https://www.facebook.com/KoiiceWigCommission
READ ALL THE TERMS AND CONDITIONS BELOW BEFORE REQUESTING COMMISSIONS
If interested please send me a
photo reference
of the wig you want for a quote in a
Personal Message
.
If you have a wig already it can be sent to me and I can style that or I can find a suitable wig to style which will be added to the quote.
Wanting the wig on a
short deadline
will cost more for the wig and a faster postage as usually it will take up to
two weeks
for my
base wigs
to arrive from China.
If it helps the buyer, I CAN accept partial payments as long as your first payment covers the cost of the wig.
QUOTE RULES
The quotes I give include:
time to find a suitable wig, purchase the wig, waiting time, styling time and the hair spray used. As you are paying for my time to style the wig just as you are paying for the wig itself (some people don't understand that).
REFUNDS
I will give refunds for anyone who wishes to back out of a transaction at
any time
. I will refund all payments
but
the cost of the base wig as that will be a loss on my part. It is at
YOUR
responsibility when commissioning me that you understand these terms and conditions before-hand.
CONTACT TROUBLE
I've been having some troubles with my CI inbox with messages not arriving or being received. If you message me and I do not reply in two days please try my personal email which is linked to my phone directly.
Thank you
Wig Commission Feedback
I would be so grateful for anyone who has had a wig styled by me to take the time and leave some feedback in the comments of this thread (
http://www.cosplayisland.co.uk/costume/view/74433
)
Please list, the character, the series and your comments on my service
Thank you!! <3
Here are some examples of wigs I have styled and their characters ^^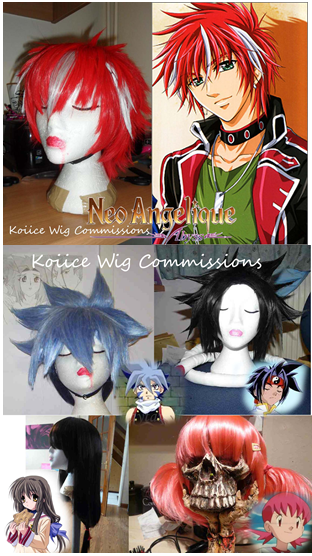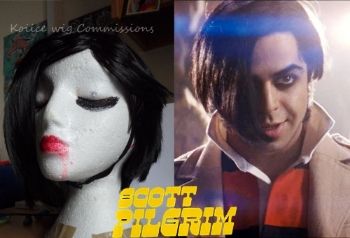 Currently Styling:
Series - Character (Contact Method) - Deadline
Trinity Blood - Catherina Sforza (Facebook) - None
Complete:
CardCaptor Sakura - The Silent Card (CosplayIsland) - October
King Kazuma - Summer Wars (Cosplay Island) - October
Tales of Graces - Cheria (CosplayIsland) - August
The Little Mermaid - Ariel (Email) - October Expo