I'm having a clear out as I need to save money for my wedding. Sorry but I do not accept trades.
All prices include p&p.
I am open to offers
I only accept payment by paypal or cash on collection at a convention.
Yu-gi-oh
Duel academy girls blazer. Worn once.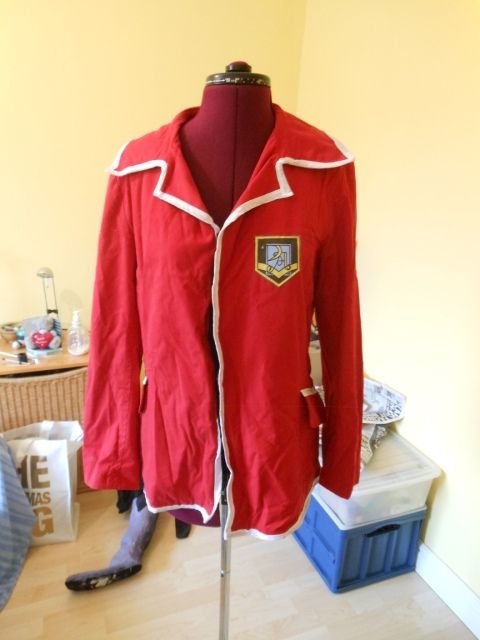 Size 10. £13
Girls school uniform skirt with white band. Worn once.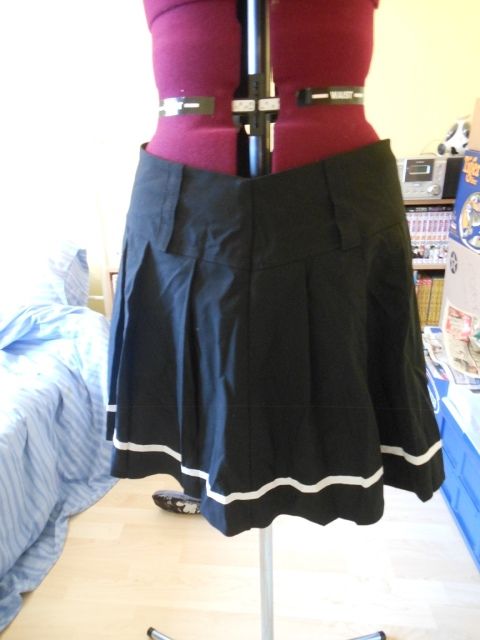 Waist 32inches. £11
Boys duel academy blazer. Worn once.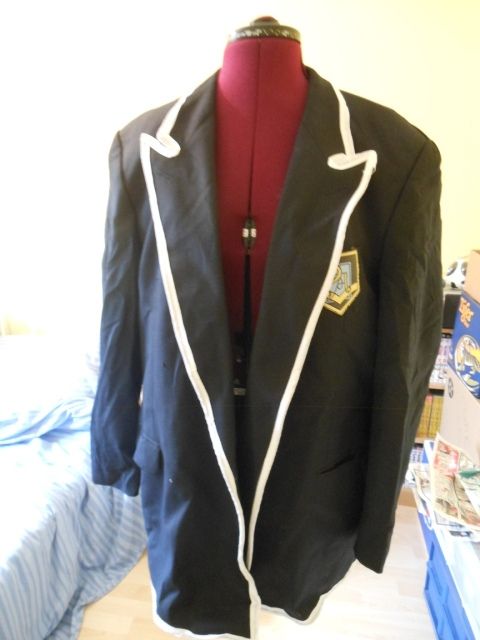 40 inch chest. £15
Final Fantasy.
Lightning: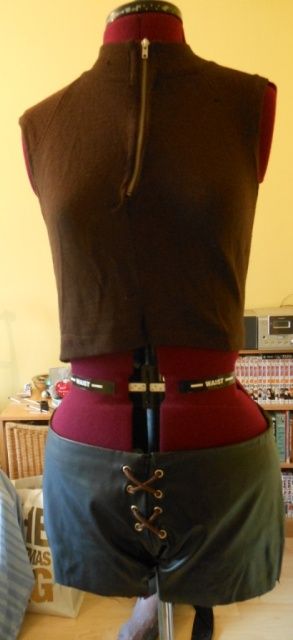 Turtle neck has a small hole in the neck (not noticeable)and in chest (again not noticeable. Stretch material, would fit size 10-14.
Under shorts- would comfortably fit 37 inch hips at the largest (although I did wear them when my hips were 40 inches, but they were tight).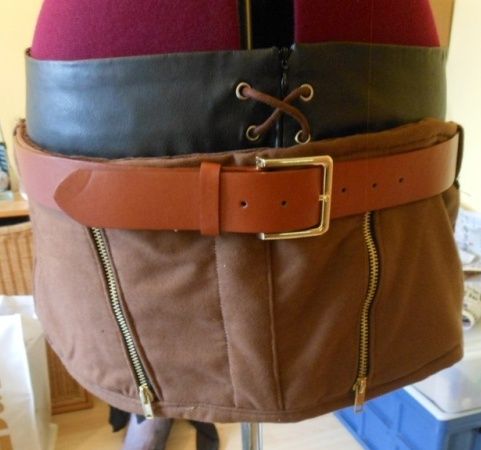 Skirt and belt. Recently remade the skirt. Fully lined. Slightly large on me, so I think it would fit size 39 inch hips at the largest. The skirt could be taken in at the back if you wanted to. The belt would fit up to 39 inch hips.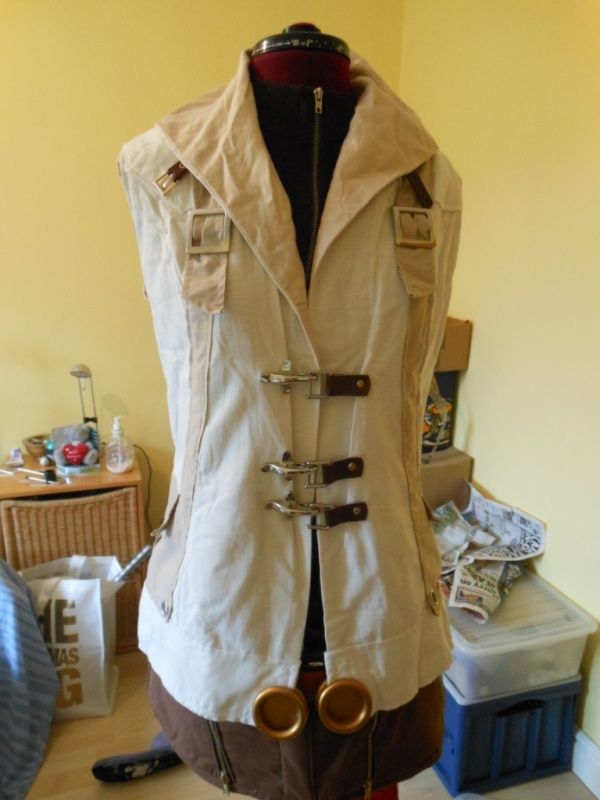 Off white jacket. With accurate clasps. Due to the waist belt the jacket can fit between 27-32 inch waist measurements. Chest is 34-36 inches. Has buttons to attach shoulder armour (see below)

Back view of jacket.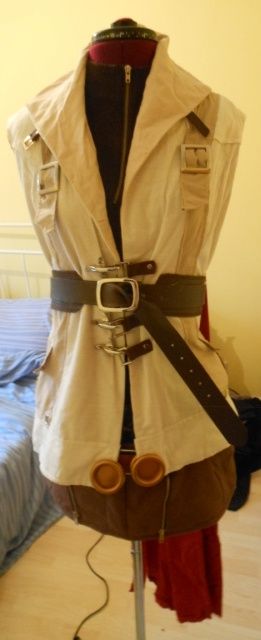 Waist belt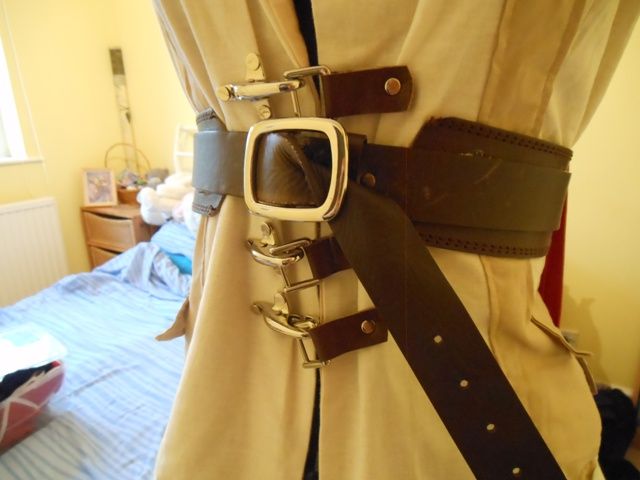 Waist belt has some white glue marks on, but these are not noticeable.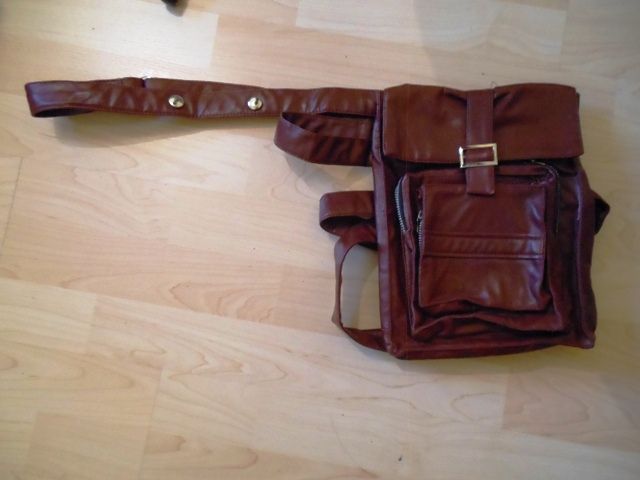 Leg bag. This is the only part of the cosplay I did not make myself.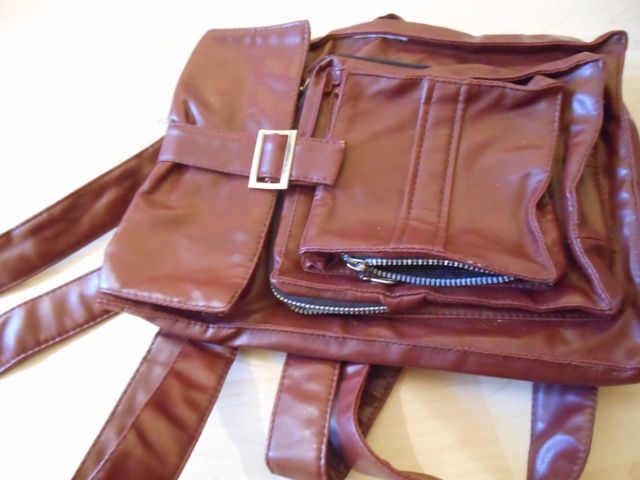 The leg bag could do with some TLC. The front zip has broken, but to be honest it is not noticeable.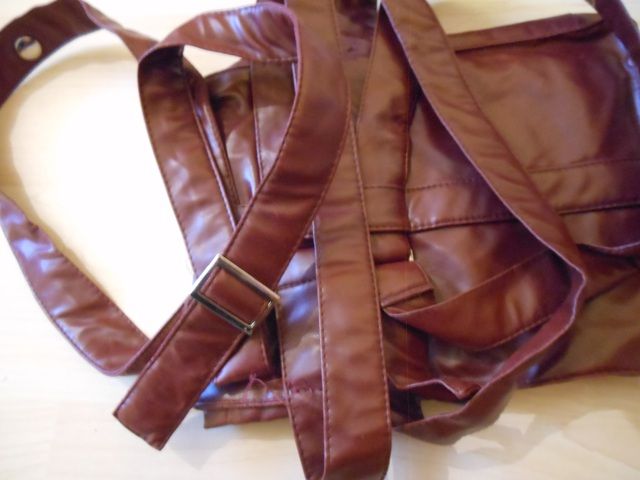 The leg and hip straps are adjustable. Will fit up to 40 inch hips.
Gloves,black sleeve, and 2 arm bands included (pics on costume page)
Lightning light up shoulder armour. Attaches to jacket via buttons.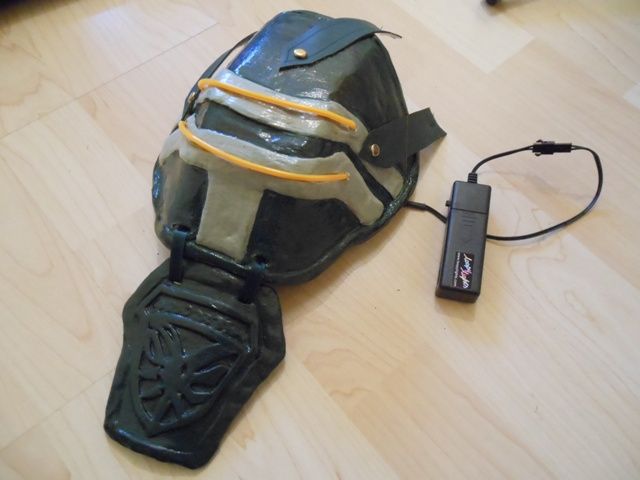 Without EL wire switched on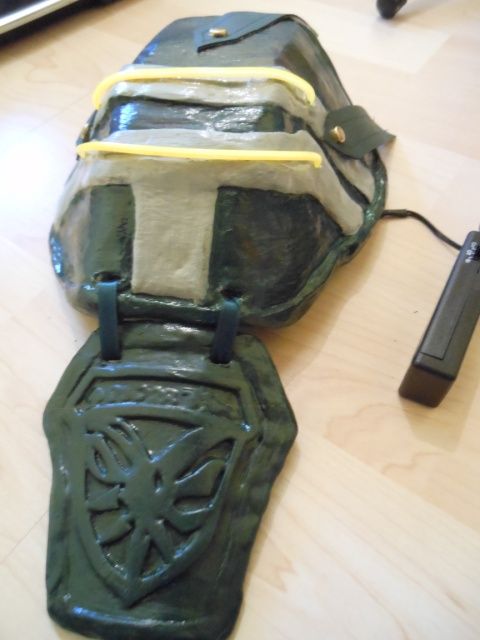 With EL wire switched on.
Lightning wig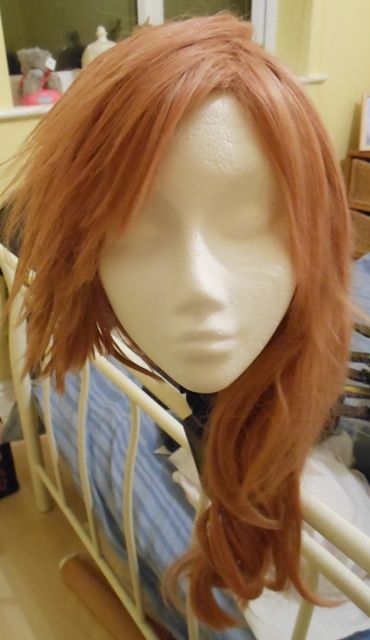 My favourite
Bought from Fantasy Sheep on ebay. Been worn 5 times total. Has been cut by me and styled using wax meaning spikes can easily be teased into shape. The wax can easily be washed out by buyer though.
£95

Lightning transformable Omega weapon
Fully made by me from a combination of foam board, paper mache, air drying clay and MDF. Easily switches between gun and sword forms.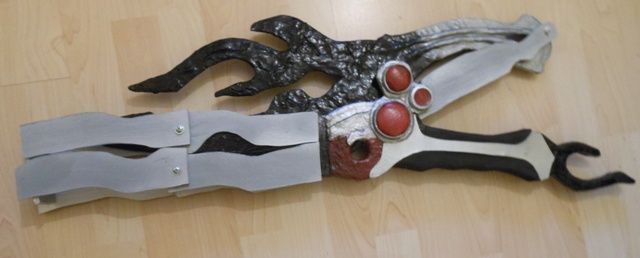 £80 (pick up only as migh break in transit)
Aerith/Aeris
(Advent children)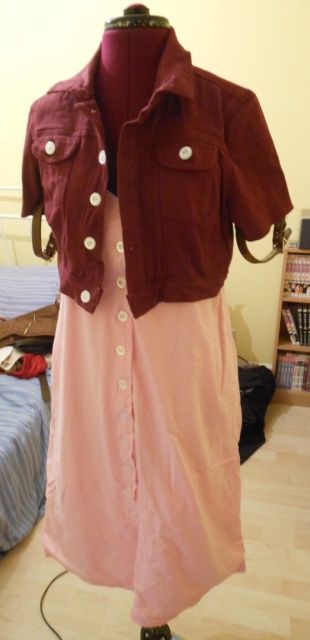 Dress- Waist 32inches, Hips 40 inches
Bolero- Chest 34-36inches. Waist 32 inches max.
Includes dress, bolero, bracelets and neck string.
£35
(£55 with wig)
Wigs
Aerith/Aeris wig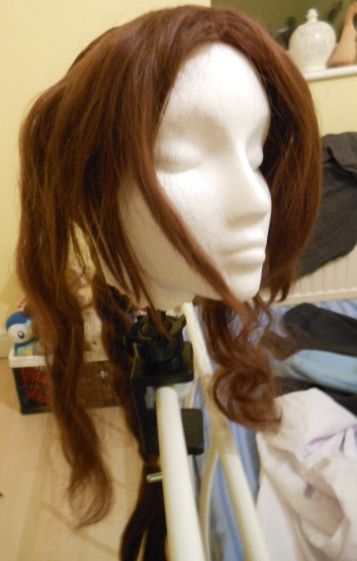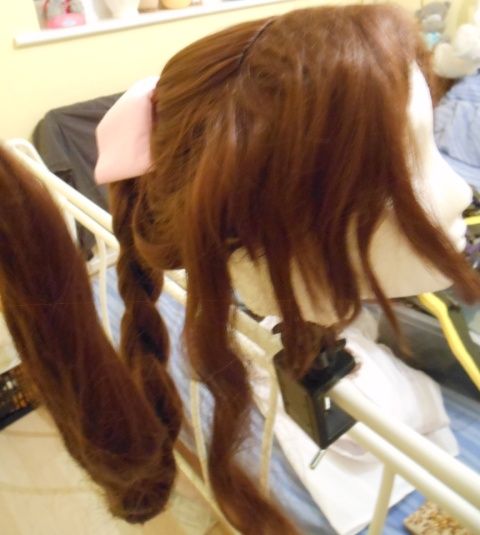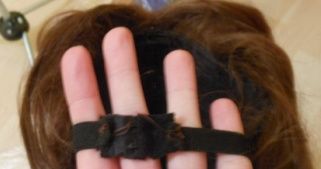 Worn once. Needs some TLC as original wig clips broke. Bought from Ayanamisatoru on ebay.
£25
Medium length Claret red wig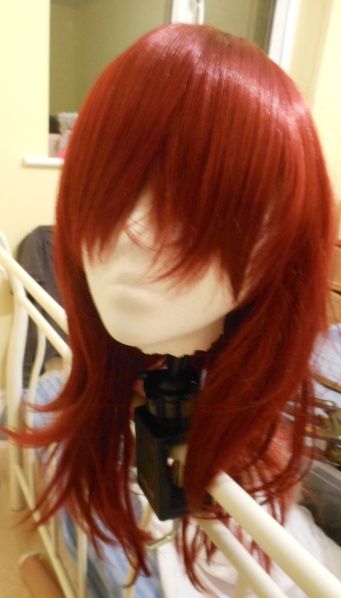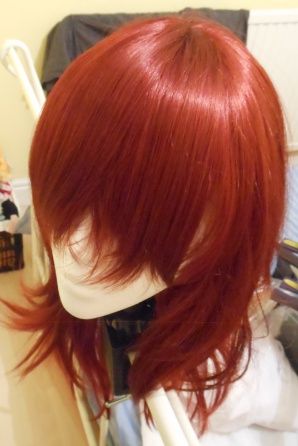 A darker red than shown in pictures (think more Kari from Kingdom Hearts)
£15
All wigs stored in nets and bags (if they came with a bag).