I'm selling some costumes on behalf of a friend. I've checked all of them over and they're in very good condition. Also going to put some of mine back up as I lost my old thread. Wasn't sure what prices to put for these, so I'm willing to consider any offers. Please contact me with any questions or offers. Sorry for the giant pictures.
Resident Evil Alice costume (dress and under-skirt) £20 inc p+p.
Can't tell you much about this one except that it looks lovely. Size 12-14 but it could easilly be made a size 8-10 (as pinned on the dummy, which doesn't go to a larger size >_&lt
. Both dress and skirt fasten with a zip.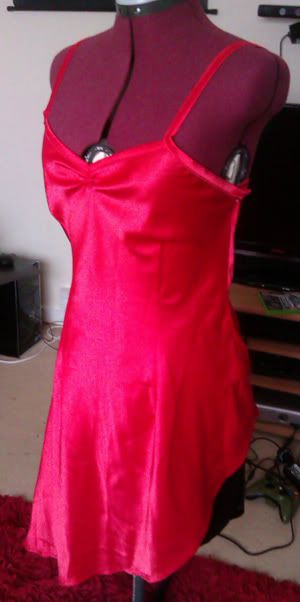 Devil May Cry 4 Trish costume (Corset, trousers, choker, armband and guns) Size 10-12. £40 inc p+p
Only worn once, and being more a fan of Lady, I don't think I'll wear it again. Leather trousers and corset with cotton lining and front panel. Guns are plastic and con-safe, though they have a good weight to them.
ALSO getting rid of a plain black catsuit, originally bought for a costume which didn't happen. It's made of a shiny lycra so if very comfortable and flattering. I'd say it's a size 12, though again a couple of alterations could make it a size 10 very easilly. Looking for around £15 as it's only been tried on and was originally £25. I'll try to get piccies up soon, but for now,
this costume by PaperTiger
was based around one of the same catsuits.