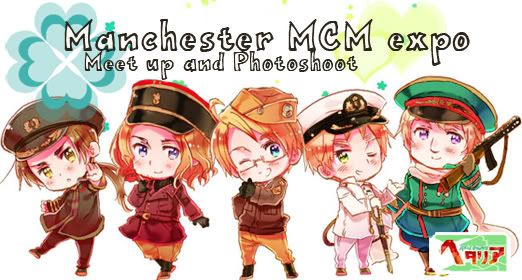 Okay everyone!
Manchester MCM expo is fast approaching and so I think its right to arrange a Hetalia meet up run by
hetalia_nw@LJ
//
HetaliaNWUK
@ devaintart
( HetaliaNWUK is an open meet group for Hetalia fans and cosplayers in the North West UK, although anyone from anywhere in the UK can attend. )

'The first MCM Expo event in Manchester is to be held at Manchester Central formerly G-MEX on Saturday 30th of July.

Bringing some of the MCM Expo magic north of Birmingham & London for the first time. There will be a wide selection of entertainment as well as a packed retailers area.

DDR UK, Cosplay, Comic's, Anime, Manga, Video Games, Movie promo's, Sports Stars and the legendary Robots Live show and so much more..

Kids Go FREE* for Manchester's first Comic Con. Advance early entry tickets are now on sale. Check the web site for news and updates as we get closer to the show date.'
-
http://www.manchestermcmexpo.com/
So, I shall be getting there early, but taking into consideration about queues I'm thinking the meet should begin around 1pm and end at 2:30-3pm or whenever everyone wants to walk off. The meeting place will be here: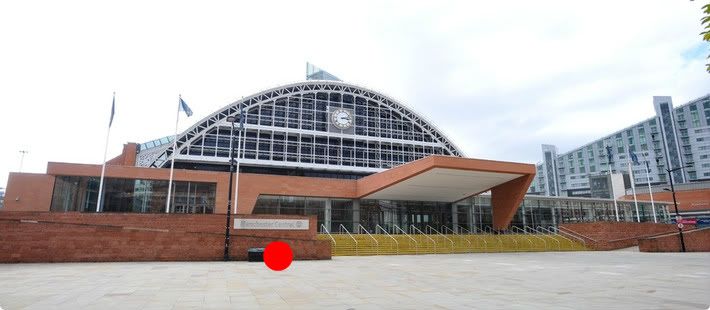 Just underneath the Manchester central sign on the left. The area with the red dot.
This meet up will be a good chance to meet other fans, share jokes and have a good time. It's also a brilliant chance to have a photoshoot with other Hetalia cosplayers – which I am really hoping to have.
Although cosplay is optional.
Now, I have to bring in some
RULES
for the meet. (Yes, I'm sorry to do this but I feel it's necessary)
1
- Please, please, please refrain from 'glomping'. It can damage costumes and can invade some people's personal space and I know a few of us aren't big fans of that.
2
- Keep in mind, the Hetalia meet up will be outside of Manchester central which is a public area, try not to scream inappropriate things that will disturb the public or pin each other down on the floor. If that's for a photograph, fine. But please don't do it because 'you're in character', save it for inside the building where we won't be disturbing the public.
3
- We are representing the Hetalia community as cosplayers, please do not say or do anything that is offensive to history.
Now those are the only rules, other than that I hope people turn up and we have a great time together!
Now I'll just sum it all up.
Date:
30th July 2011
Location:
Outside Manchester Central: underneath the Manchester central sign. See this picture for reference. ( Or just look out for a short England cosplayer around that area. )
Time:
1pm – 2:30 or 3pm, or whenever everyone decides to leave.
Please respond if you plan on showing up so I have a good idea on numbers.
--
Busby ♥