I have a few bits and bobs that I would love to find a good home for. I really don't have the room for them anymore. Click on images to get a closer look
.
Action Figures and Plushies

These have all been kept in great condition and come from a clean home.
Tenchi Muyo 12" action figure of Tenchi (MIB).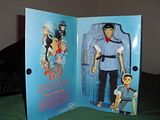 This is a rare figure and has been only taken out of the box once very briefly. He is fully possible. He comes with a sword and fabric clothes.
Price £19.
Drusilla action figure (MIB)
.
This has never been removed from its box as I ended up with two. She comes with various accessories.
Price £8
MewTwo Pokemon Plushie.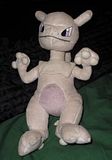 This is a Mewtwo plushie roughly 11" tall. Has the odd small mark on him. He is an offical Pokemon product.
Price £4
Eeve Pokemon Plushie.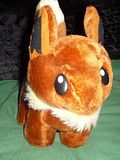 This a Eeve plushie roughly 10" tall. Is in good condition.
Price £5
Costumes
All are in good condition except where stated (minor repair work). All have been handmade by me.
Claire Bennett Cheerleader Costume from Heroes
This is for the skirt only as the top sadly had to thrown away. The skirt is a size 14. It has been hand made in a durable heavy cotton.
Price £12
Cain Nightroad from Trinity Blood (anime)
This is for the cloak, robe, and armour. Doesn't include the gloves, belt or trousers. This costume was hand made to a size 14. The robe is lined and made from a satin. The cloak is lightweight cotton. The armour is cintra/foamex PVC. Which I have made myself. As there is a bit of repair work on this costume I am only asking for the cost of the materials.
Price £18
Will Turner from Pirates of The Caribbean
This is for the waistcoat only. Would be great as a general 18th century piece. This is made to a size 14/16. It is fully lined and made from a lightweight cotton.
Price £8
Prices don't include postage. Postage will be calculated depending on your area and delivery type required.
Thank you for looking and happy shopping.
(more to be added later
)