Hello! I'm selling a few bits and pieces to raise funds for cosplay and other various stuff, so come on in, take a look around and let me know if you'd like anything.
I'll be at MCM expo on the Saturday and I'll be at Auchinawa (should be anyway, but I live in Glasgow so if I'm not I'll just pop over to Edinburgh and drop stuff off). Most of this stuff isn't great to post but I'll do my best.
First up, my TaeYang (that's a boy pullip)
I really love him, but he just sort of sits in the corner and it's not fair.
He is the October model from a few years back, a Shade -
I have almost all of his outfit and accessories HOWEVER one or two of them are at my mum's house in yorkshire, so if you wanted to collect him at expo I would have to post the last few bits (I think his hat and coat, full inventory will follow) when I visit in November - at no further cost to you.
His hair has also been styled, I had planned to make him into a Sora OOAK so he has Sora's hair. It's styled by the wonderful SephNoir, using Fructis manga hair gel, which I hear washes out easily as long as you use care, so if you don't want his Sora hair it should be easily removed.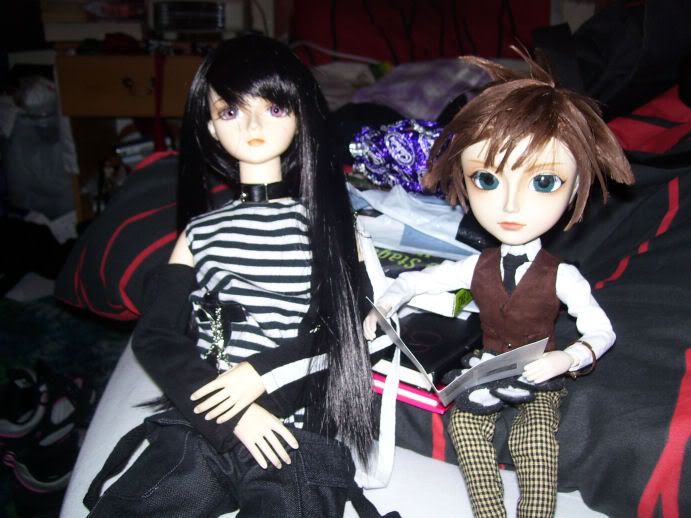 (The other doll is my BJD and not for sale)
I'd like £40 or nearest offer.
(Reserved)
-----
Roxas Wig
Styled, again, by the wonderful SephNoir, one of her very first commissions in fact, and no less epic for it. The weft is a little thin and a tiny bit torn in places, but it has kept its style immensely well (Seriously, it hasn't lost a millimetre of hold and it's about four years old now)
The wig cap is a little small but I have a quite big head and it's fine for me.
Asking £10
(reserved)
-----
Long Blue/Konata Wig
as seen in the Konata image here -
http://www.cosplayisland.com/costume/view/23315
It reaches a little way past the shoulders and is bright blue with a fringe. There was an antenna styled into it but that's pretty much flopped.
Could do with a bit of a brush and a smidge of TLC but essentially still good.
Asking £10
---
That's all for now. Any takers?