I'm in desperate need of some quick cash to fund my latest obsession, so I'm looking to sell a few of my items.
Paypal preferred.
First who can pay gets the item.
Postage not included in prices.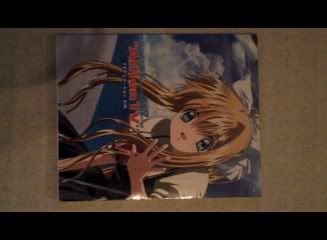 Finally, I have the Air TV Artbook, signed by Vic Mignogna (the voice actor for Yukito) The autograph reads "<3 From Yukito! Vic Mignogna"
The artbook itself is in immaculate condition £25
I also have a poster signed by Vic. The image is
this
picture of Edward Elric and the Autograph is "Vic Mignogna -Edward-" £7
I'm considering selling
this
Final Fantasy Yuffie figure. It's one of the rare Cold Cast figures made in 1997. It does have some damage - the shruiken has snapped leaving the dagger part in her hand, however this could be fixed with glue (I also hear this is quite common, due to the age of the figure). She comes with her box and stand.
I'm not sure how much to set for her - so I'm just posting this to see if there's any interest - feel free to offer!
SOLD
Let me know if you are interested!