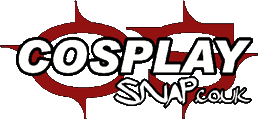 Hey there everyone.
I just wanted to let people know that if you're attending Minamicon 14 and you're looking to get a great memento of your cosplay, Cosplay Snap has opened bookings for Private Photo Shoots at the event.
I would announce this and a few other things on my website except the recent server "upgrade" has left me unable to update it myself. Instead I have to send my updates via the server manager and he is taking his sweet time.
So here's the short version: I'll be wandering around Minamicon with my camera and hopefully snapping as many of you as possible. If you want some of my best work- a twenty-photo photo shoot of just you and your cosplay- then you can book one via my website, Cosplay Snap.
I'd appreciate it if you booked by sending me an email (the address and necessary information is on the site) rather than posting a reply asking for one here.
The base price of a photo shoot is now £15 for a half-hour shoot with one person (which can run a little longer if you need it to). For each additional person in the shoot, the price increases by £2.
You can find more information at
http://www.cosplaysnap.co.uk/
The galleries are
still
down (the "upgrade", again) but if you want to see some samples of my work I point you to
here (London Expo photos)
or
here
.
Currently available slots are as follows- I'll try to keep it updated.
Friday
12noon
1pm
2pm - Unavailable
3pm
4pm
5pm
6pm
Saturday
12noon
1pm - Unavailable
2pm
3pm
4pm
5pm
6pm
Sunday
12noon
1pm - Unavailable
2pm - Unavailable
3pm
4pm
5pm
6pm
Whether you do book or not, I look forward to seeing everyone at Minami!