Boots For Sale:
Black knee length boots, can be used for a gunner yuna cosplay or just general wear. They need about 6ft long laces which i dont have anymore. I can send them with what they have now which aren't real laces they are a cord like rope i bought from a fabric shop but if wanted for a yuna cosplay i will leave them in.
They are in good condition, ive only ever worn them once, but they where owned before i had them.
Im saying about £20 with postage.
I will drop the price a bit if anyone was needing them desperatly.
They are european size 39 u.k size 6, but they are more like a big size 5.
(they cramped my feet a bit and im a size 6).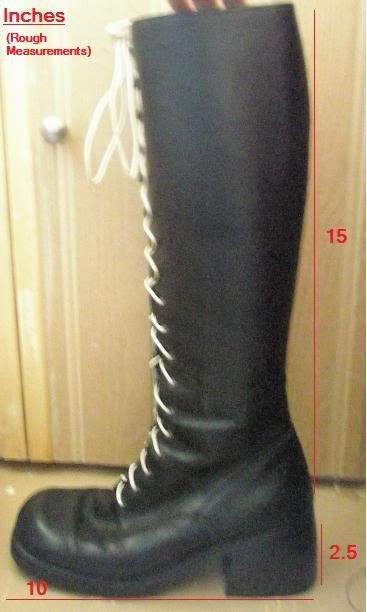 Side Skirt:
Orignally bought my first ever costume from ebay but i wasnt happy with the standards so i went on to use a comissioner called limebarb.
The only thing i kept from the ebay one was the side skirt as i think it is actually pretty good.
The reason for me not using it is it dosent fit me properly around the hips and has sat in my wardrobe ever since so here it is up for sale
.
its made from a very thin material so it is very floaty (good for wind action photos
)
The measurements are,
waist band 35inchs
length 37 inches
it closes at the top by velcro.
im asking £8 p+p for it but if anyone wanted it with the boots then i would lower the price to £5.
thank you
.