With 20 years of costume and sewing experience, a year of arnour experiance and several years of prop making experience. I also hold a BA Hons degree for which costuming was part of my course. I happy to annouce that I'm willing to do armour commissions.
I can make good quality plastic armour of almost any shape. Each piece is indivially hand made. All hard wearing and leightweight. Simple designs to quite decrotive can be made. All can be made con/event safe.
This armour commissioning will be starting mid Aug.
Sephiroth AC (simple plate pieces)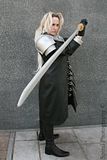 Abel Nightroad (complex pieces with details)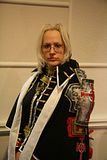 Cain Nightroad (simple plates, detailed hand painting)
Priced by piece/complexity. Each set can be made for a good value. To find out more please feel free to pm or e-mail me at
Each commission is priced according the the indiviual requirements. A deposit is required up front to secure the commmission. Once Deposit has been made construction will be started. Once the deposit has been made no cancellation can be made unless under extreme circumstances. Please allow up to six weeks for construction and delivery. Due to the individual nature of each commission no returns can be made unless there is a fault. A faulty return must be made with 10 days.