Hi all. After successfully making some for the Male to Female community I would like to offer my chest binders to the crossplay community.
*All are made from a good quality cotton for comfort.
*Adjustable at the side to achieve the desired look.
*Hard wearing and light weight.
*Available in standard sizes or made to measure.
*Two neck lines to choose from. Round neck or v-neck.
*Currently available in black or white.
*Each one will be hand made.
Pricing guide
Basic sizing 10-22 £30 (not including P&P)
I will need dress size.
Custom sizing/made to measure £40 (not including P&P)
I will need the following measurements;
Chest, cup size, dress size, side (from underarm to underbust) and shoulder size. All measurements in cm.
Postage and Packing
Standard delivery 1st class £4.50 (within the UK).
Recorded Delivery £6.50 (within the UK)
If outside the UK please pm for postage quotes.
For any custom designs please pm or e-mail
To order please pm or e-mail
The important info
When placing an order please state measurements in inches and dress size.
Payment is required up front to cover costs of fabric.
Payment is acceptable though paypal.
Any faults must be reported within 10 days. Then arrangements can be made to exchange the item.
Each item is hand made so its important to make sure you send the correct measurements.
Once payment has been made please allow 4 weeks for construction and delivery.
Photos
Model is wearing custom fit binder in black cotton. Size 14. Cup size B. Also model has got quite a bit of peck muscles from Stunt training days.
Front
Back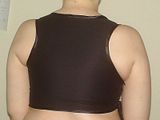 NEW V-neck