I'm having a massive clear out of all my cosplay stuff and have all sorts of bits too sell! Please take a look and PM me on here, reply to this post or if you have me on facebook get in touch with me on there.
Paypal only!
Will not hold anything, first come first serve. I need this stuff
gone!!!!!!!!!!!!
A portion of total sales I make is going to local dog charities
I am always as honest as possible about the condition of my stuff, if you have any other questions please don't hesitate to ask!
Lady Loki Belt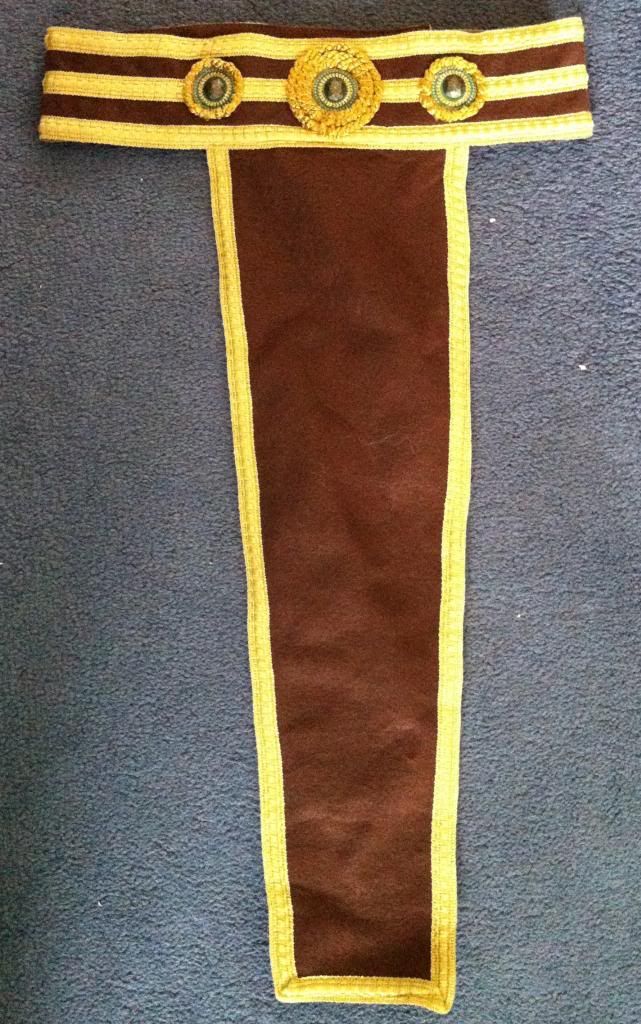 SOLD
Waist 31".
All embroiding with small black stones in the middle of the medallions.
Turquoise/Aqua Block Fringe Wig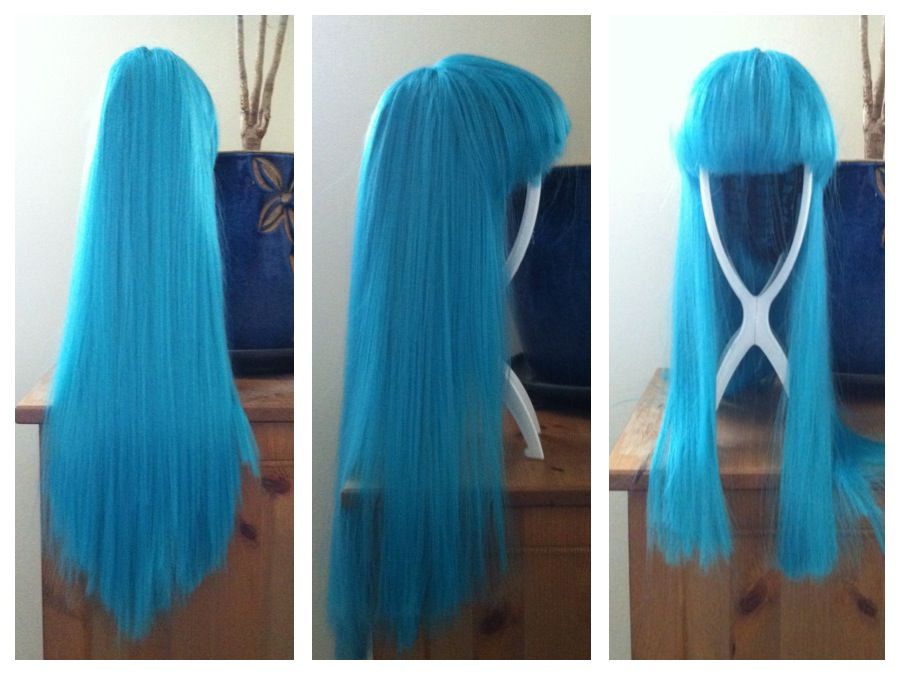 ACTUAL COLOUR.
£10 + £2 P+P
Gorgeous wig only tried on, it is a WIP for a Morrigan Aensland wig and would probably need the ends tidied up and maybe the fringe. I never wore it to a con so its in fantastic condition, tangle free!
Long Green & Black Mix Curly Wig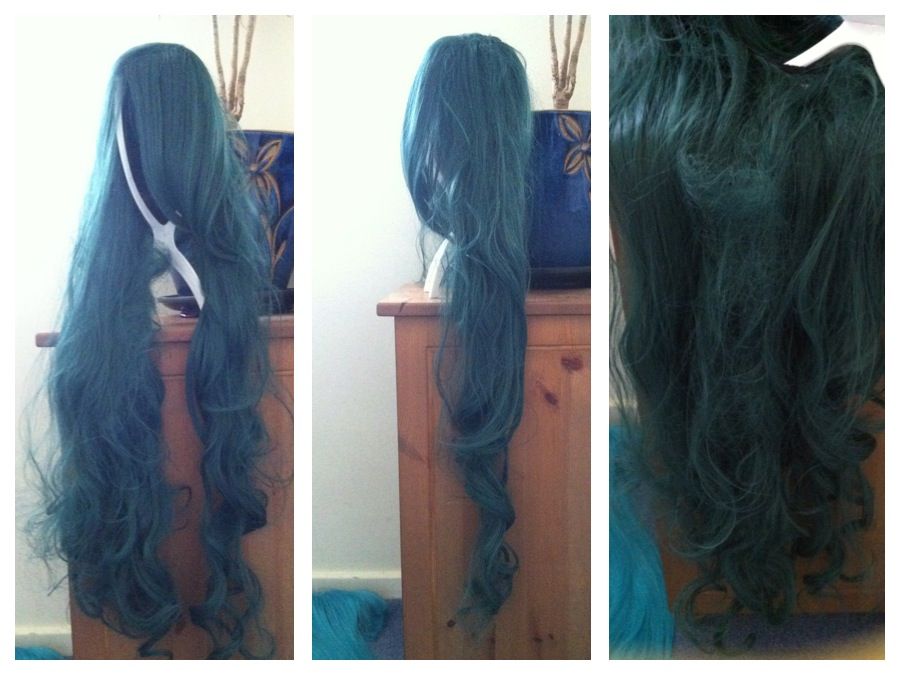 £5 + £2 P+P
This wig is in major need of some TLC, it has a big tangle underneath which I haven't got the time or patience too tackle! When you put the wig on it isn't visible except from a few fly aways and some untidy curls which a good brush could sort out. Worn once.
Long BRIGHT Pink Wig
£8 + £2 P+P
A very bright pink wig with a subtle wave to it, the ends have gone a little frizzy over time but nothing a trim couldn't fix. I wore it earlier this year and it was still fine, worn twice in total.
Long Wavy White Wig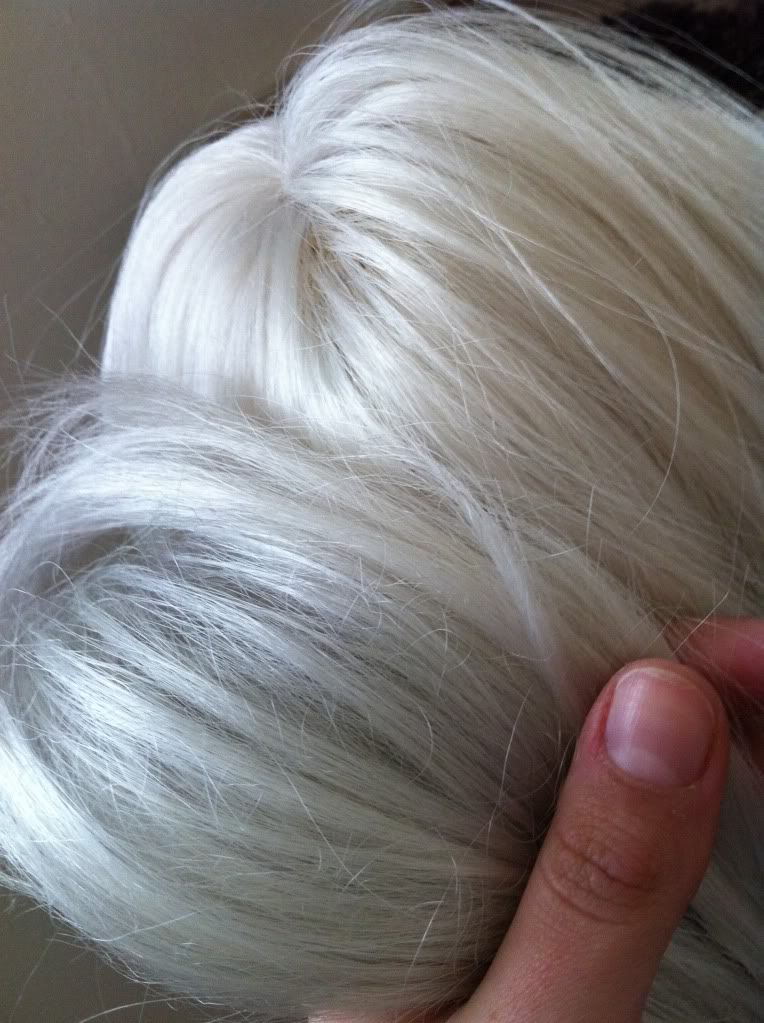 SOLD
Long wig with a subtle wave to it, worn a few times but it good condition. Again it would probably benefit from a trim to get rid of some frizzy ends. Please note as I have always worn this with a Black Catsuit the ends have a grey tinge (See third photo from comparison). Its not something anybody picks up on when you are wearing the wig but please be aware before buying and do not buy if it is a problem!
Long Curly Copper/Red Wig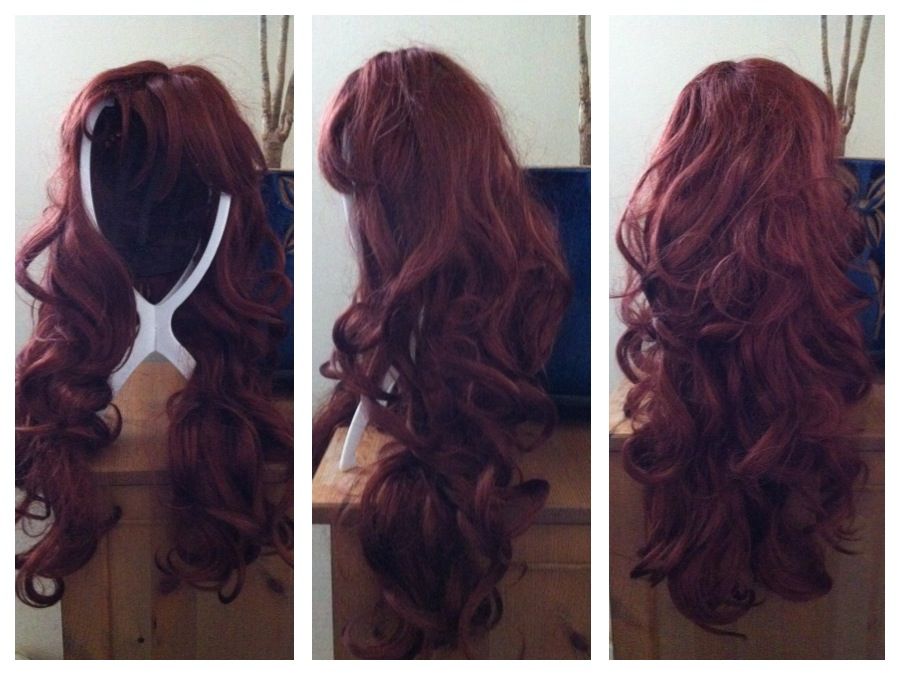 £8 + £2 P+P
I completely adore this wig but unfortunately don't have any use for it anymore. Its a thick curly wig with a beautiful colour to it! It has seen better days and needs some TLC a brush and probably a trim, it does have tangles in it, nowhere near as bad as my green wigs but it would need some work. When the wig is on again you can't notice them from the front.
Poison Ivy Iridescent Leotard
SOLD
Chest: 30"
Waist 28"
Top of the leotard to the top of inside leg 20"
Mad Moxxi Cosplay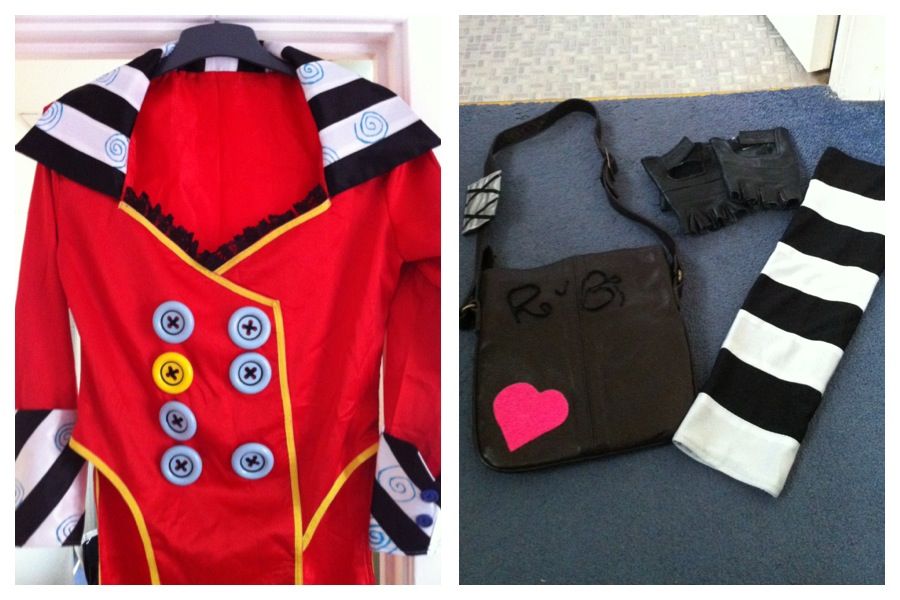 £40 + £5 P+P
Chest 41"
Waist 36"
Inside Arm 19"
Top of shoulder to top of jacket tails 19.5"
Tails 24" each
A great chance to own a partial Mad Moxxi cosplay from Borderlands,I have worn this once for a few hours. I had it made to my measurements but it was a little to big and a little too short! The jacket had shoulder pads and a zip in one side. It is made from a red satin material and lined with the same, it is very good quality and will last many, many more wears! The only downside is a couple of swirls on one sleeve bled into the fabric so look a little messy, but its not something that anyone ever pointed out, luckily being on the sleeve its not where most people look!!!!
ALSO if you wish can also come with the Rubi side bag (in the game its a gunholster, but I turned it into a bag to carry things in), pair of gloves and black/white leg piece. It does
not
come with the hat or megaphone. Shoes available further down in the sale!
Lady Loki/Mera/Green Scale Bodysuit
SOLD
Inside Leg approx 31" (not including feet)
Chest 36"
Inside Arm 18"
This is a 4 way stretch lycra bodysuit with feet and invisible zip with a scale like pattern. I had it made for a base suit for Lady Loki however ended up wearing it as a Mera bodysuit. In great condition, slight wear on the feet as expected other than that great
Poison Ivy Ballgown/Princess Dress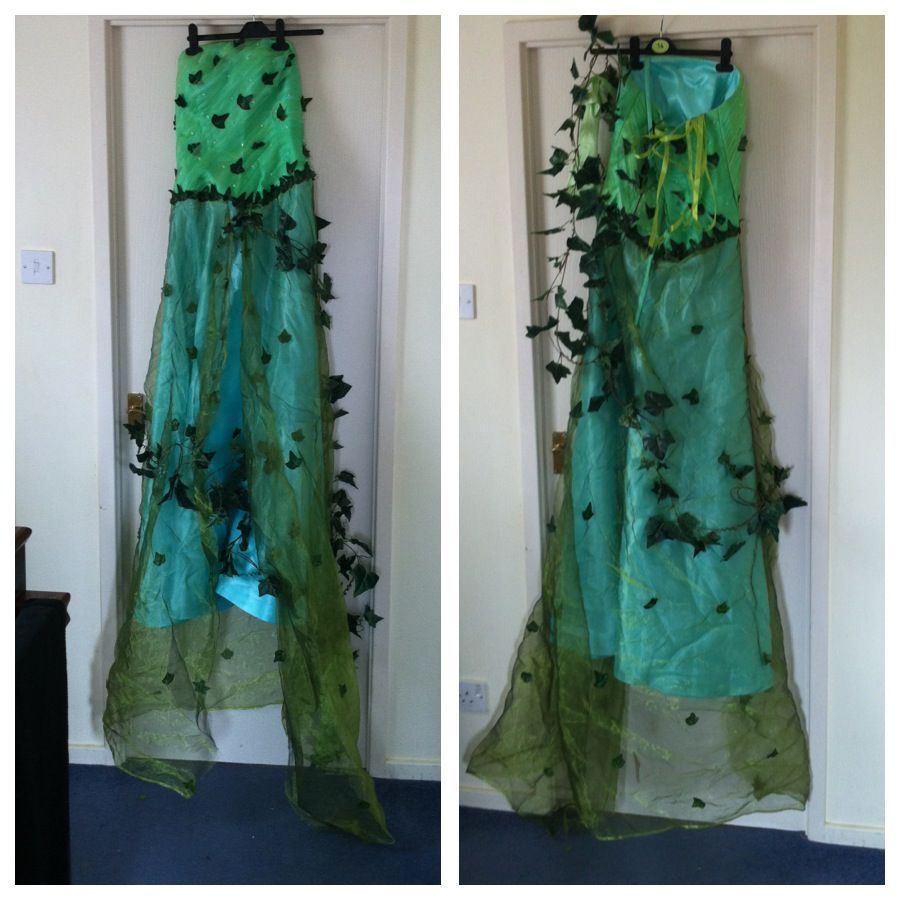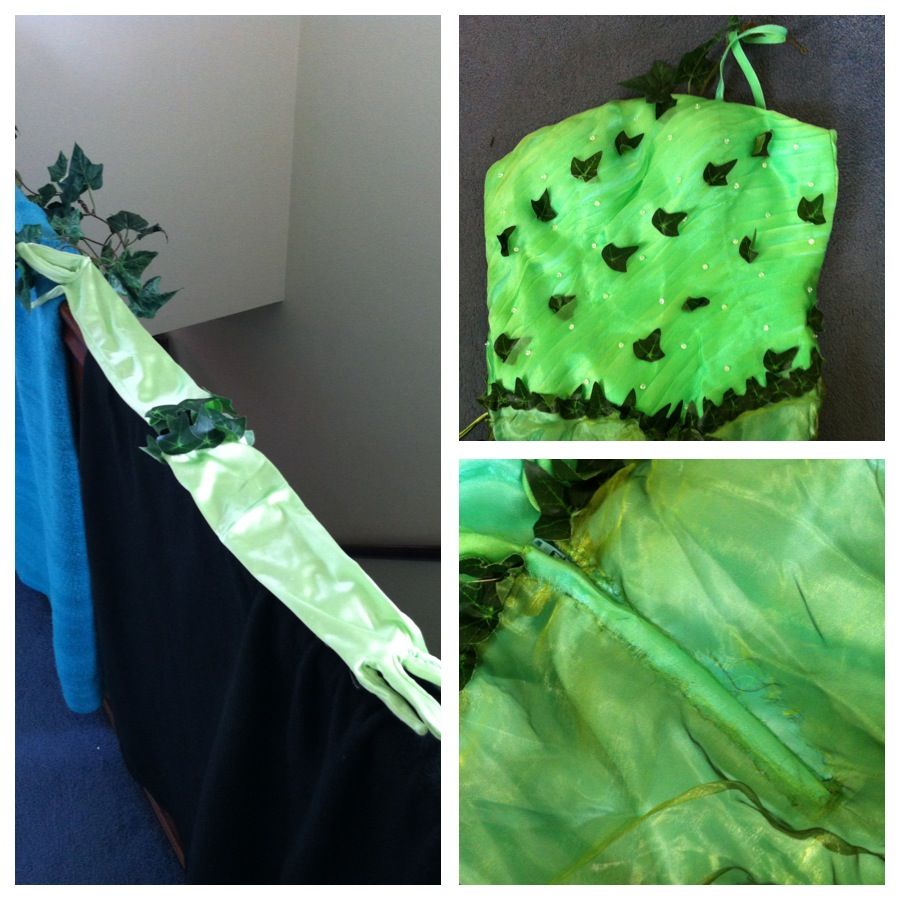 £35 + £4 P+P
Chest 36"
Waist 32"
Top of dress to start of the skirt 16"
to of skirt to the bottom 41"
Glove Length 10"
Beautiful dress based on a "Disney Princess" version of Poison Ivy, the dress was bought online and all the rest was handsewn to it. The dress is marked a size 12 however I personally think its more 12-14. All the leaves are handsewn and so is the iridescent gauze trail. The vines are sewn on in various places but could be removed easily. Comes with two elbow length gloves with leaf trim. One glove is attached to a piece of Ivy Vine which attaches to the dress. It is done up with a corset style back and green ribbon and has a small zip at the back. The dress is in good condition and was only worn once and got many compliments! The only bad thing is that some of the gauze material has ripped off the underskirt near the zip but could be fixed easily or even hidden with vine.
Resin Slave Leia Costume
SOLD
Mad Moxxi/Circus Style Knee High Boots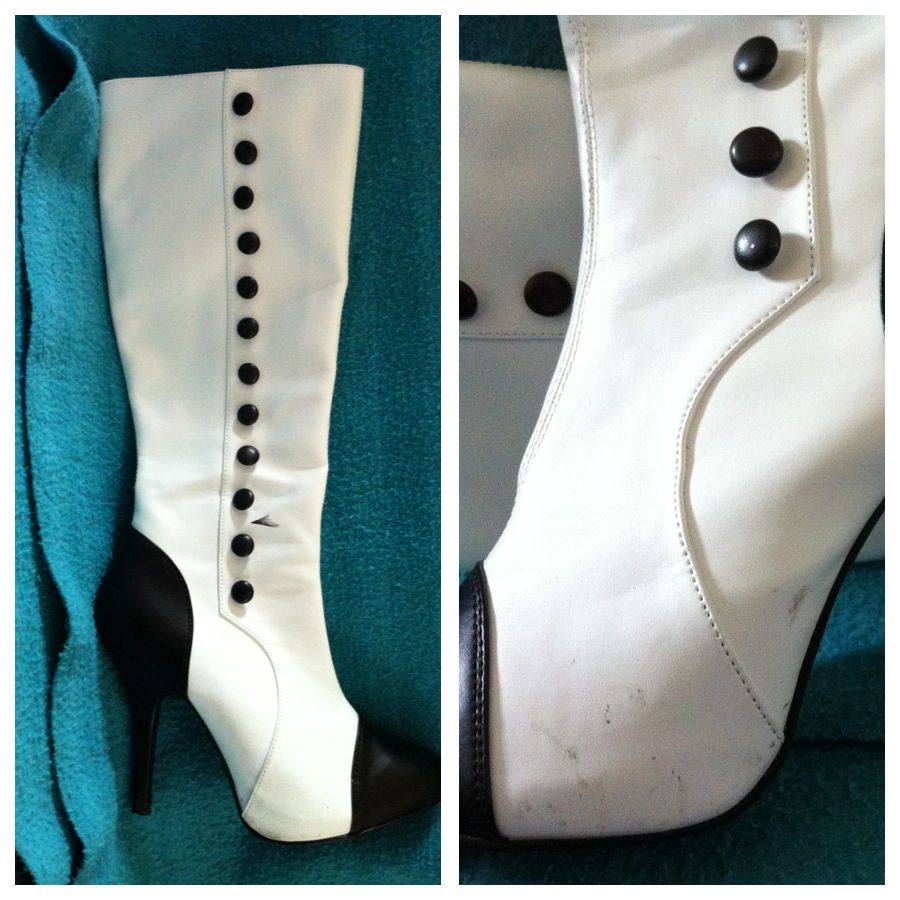 SOLD
UK SIZE 7.5. Worn once, one has a black mark (see photo) other than a few usual scuffs that shoes get in very good condition.
Black Shiny Patent PVC Platform Boot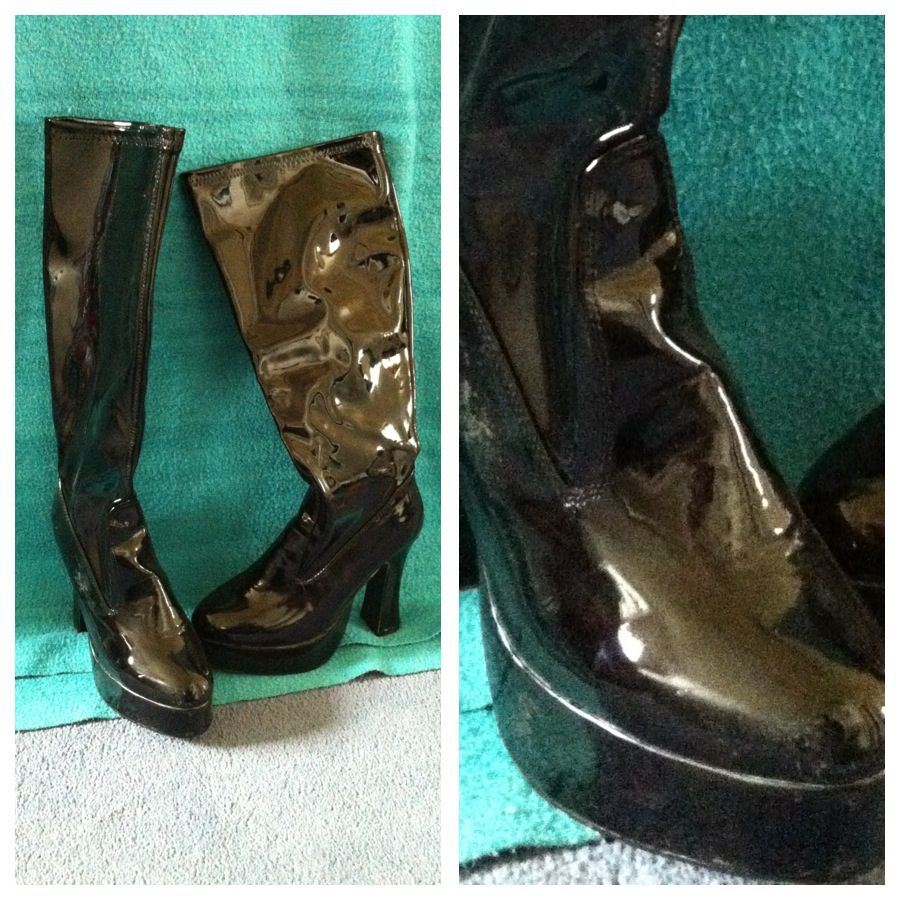 SOLD
Thigh High White PVC Boots w/ Clear Platform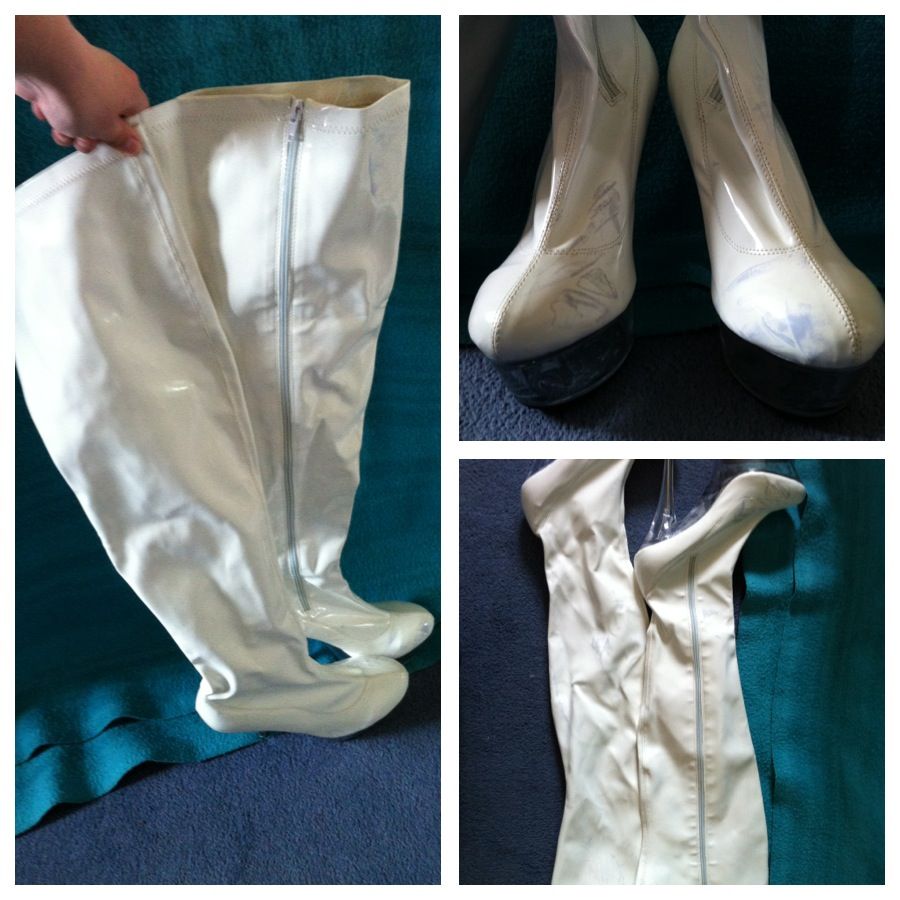 £12 + £5 P+P
UK SIZE 8. Length of boot 22". Awesome boots that I bought to wear for Mystique, a costume that never went ahead. These do have various marks on them (don't know how I've never worn them out the house)! I have tried to pick these up in the photos, mainly on the main shoe and some up the length of the boot.
Black Widow Gauntlets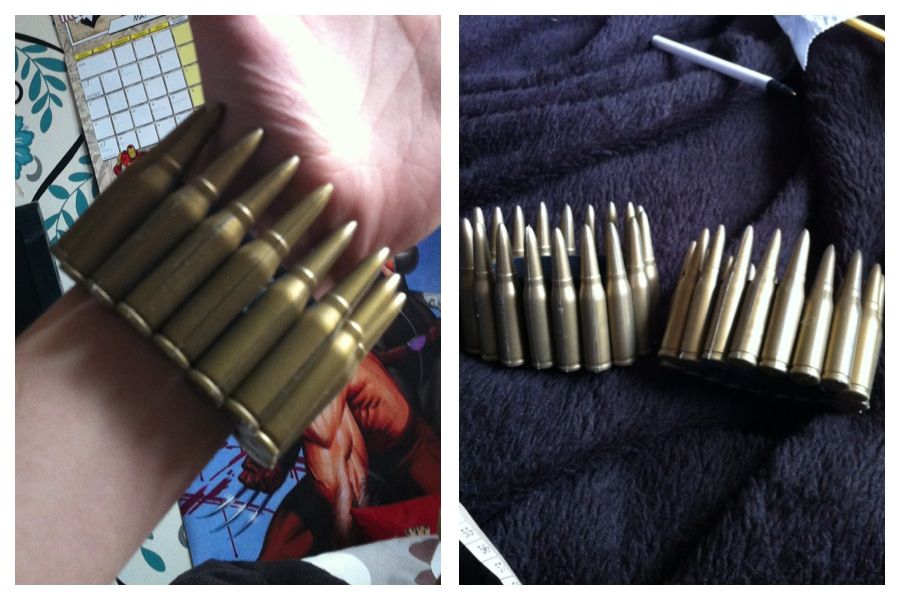 SOLD
Made from wide black elastic with plastic faux bullet cases! Worn once.
X-Men Belt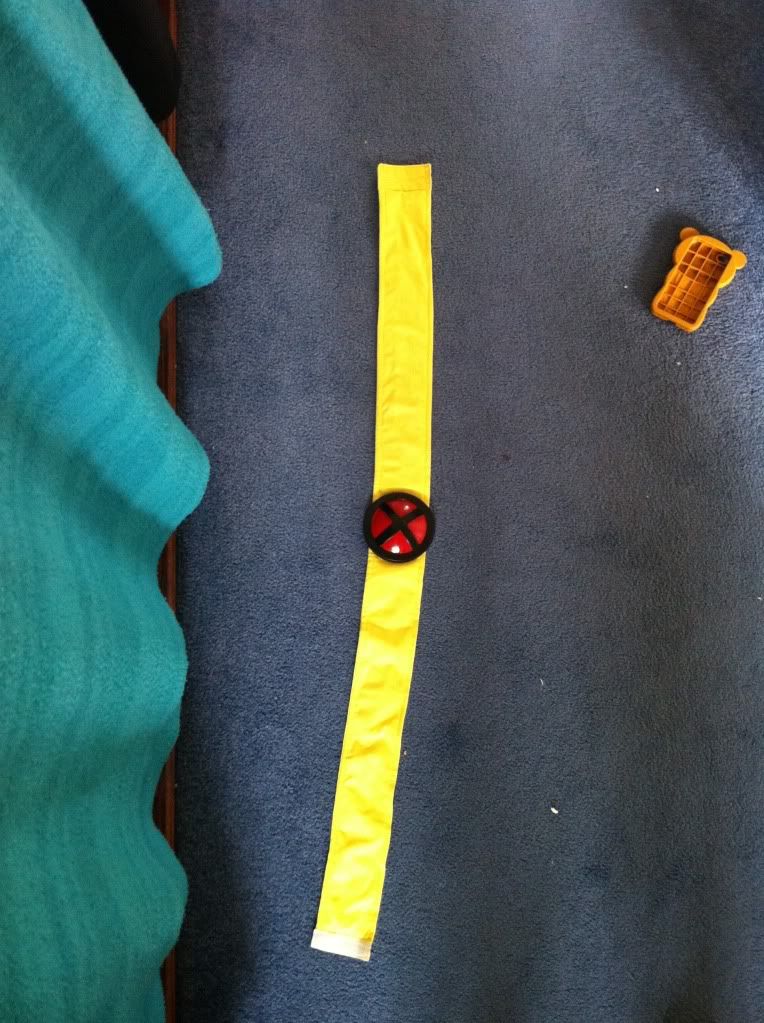 SOLD
Poison Ivy Boots
£8 + £4 P+P
UK SIZE 8. Leather ankle boots covered in leaves (bar the heel). Could do with a spot of glue to cover some patches where leaves have started to peel back over time. Worn twice.
Two Black Wetlook Catsuits w/ crotch zip
BOTH SOLD
Black Underbust Corset
£8 + £1.80 P+P
Waist at tightest 25"
Labelled size M, would ideally fit from a size 10 to small 14. Worn once in perfect condition.
I don't accept trades however! I would trade possibly for an Inuyasha cosplay